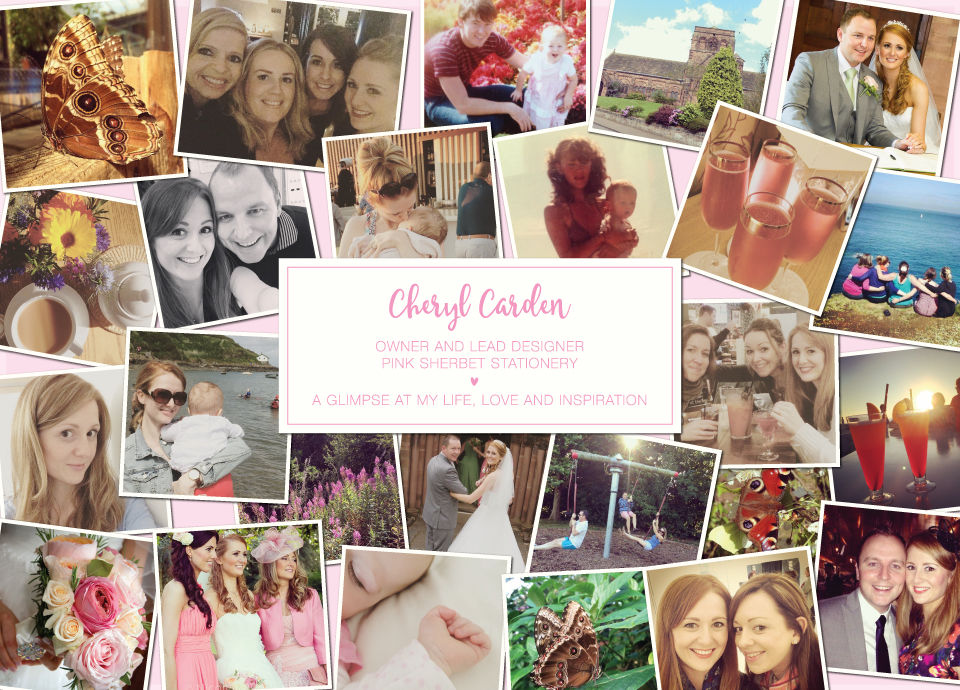 Cheryl Carden
Hello! I'm Cheryl Carden, I own and run Pink Sherbet Stationery from our Wirral based studio in the north west corner of England. I opened Pink Sherbet in 2007 and have loved nurturing my business and watching it blossom over the years. I am joined by my colleagues Paula (my mum) and Claire (my good friend) who like me are self-confessed perfectionists and absolutely obsessed with all things paper! :)
I design luxury wedding invitations and stationery for couples who truly appreciate the very best in professional design, print and hand-finishings. My work is inspired by everything I love; nature, art, music, pattern, fashion… stumbling across a pretty vintage dress, a beautiful butterfly or an unusual wild flower can really get my creative mind going!
I love experimenting with pattern work and colour and I'm all about attention detail. I like to create a design and then work into it adding pattern and layers making things interesting not only from afar, but up close too!
My favourite collection...
My favourite wedding stationery collection is 'Enchanted'. It was designed to capture the magic of spring and summer; an enchanted meadow filled with joy and delightful surprises, just like a wedding! This collection really showcases my obsession with design detail.
My Special Day…
My husband and I married back in August 2012. My extensive wedding industry experience was greatly enhanced by our planning journey. Through planning my own wedding I came to really appreciate the exact qualities couples are looking for in their wedding suppliers. This has encouraged me to finely tune our designs, products and services ensuring every Pink Sherbet Stationery customer has a truly personalised experience. I want each and every one of our clients to feel like our only client!
My loves...
I absolutely love taking pictures of my daily life and anything I find beautiful, particularly my daughter! I love spending time with my family and friends, laughing, smiling, dancing, drinking cocktails and listening to 80's music. I'm hugely grateful for everything I have, particularly my very much loved family and believe it's the small things that make a truly happy life!
Cheryl's Wedding Photography © Nicole Photography