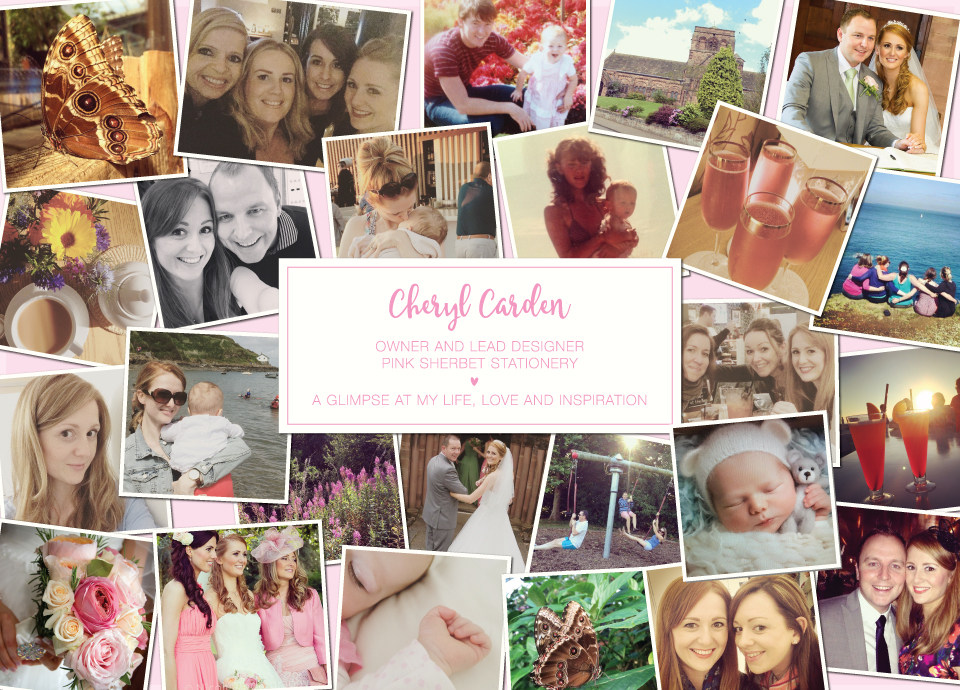 Pink Sherbet Stationery is the home of luxury professionally designed, and printed wedding invitations and stationery. We're proud to say our work is completely personalised and often enhanced further with gorgeous, opulent hand-finishings to perfectly compliment each specific design. We love to work with our couples to bring their ideas to life, creating wedding stationery perfection, setting the tone for your wedding in style!
Cheryl Carden
Hello! I'm Cheryl Carden, I own and run Pink Sherbet Stationery from our Wirral based studio, North West England. The company was born in January 2007, which means it is now 13 years old! Wow... the years have flown over, mainly because time really does fly when you're having fun, yes I went there with that old cliché, but it's so true!
A lot has changed over the years... house moves, marriage and two beautiful children with Pink Sherbet flourishing beautifully alongside it all. I have learned so much about myself through the years, so so much! It took some time to find my feet, to truly understand my own skills, strengths, creativity and position in the wedding market, all leading me to where I am today... a dedicated artist, graphic designer, a luxury wedding stationer creating and coordinating completely personalised, professionally designed and printed, beautifully hand-finished wedding invitation suites and matching stationery.
Here at Pink Sherbet we are utter perfectionists, everything has to be just right, we care very very much! We get butterflies when a design comes together and even more so when a couple sees their invitations and stationery for the first time! We are in love with what we do, we feel lucky to be able to create such magic, to make people smile so much, and we are beyond excited for the future of Pink Sherbet! I am joined by my colleagues Paula (my mum) and Claire (my good friend) who like me are self-confessed perfectionists and absolutely obsessed with all things paper! :)
My Special Day…
My husband and I married back in August 2012. My extensive wedding industry experience was greatly enhanced by our planning journey. Through planning my own wedding I came to really appreciate the exact qualities couples are looking for in their wedding suppliers. This has encouraged me to finely tune our designs, products and services ensuring every Pink Sherbet Stationery customer has a truly personalised experience. I want each and every one of our clients to feel like our only client!
My loves...
I absolutely love taking pictures of my daily life and anything I find beautiful, particularly my children! I love spending time with my family and friends, laughing, smiling, dancing, drinking cocktails and listening to 80's music. I'm hugely grateful for everything I have, particularly my very much loved family and believe it's the small things that make a truly happy life!
Cheryl's Wedding Photography © Nicole Photography